Leadership
Written by Isabel Carter
Christian leaders
Read 1 Peter 5:1-4
?List the characteristics of good leaders mentioned in this passage.
Read 1 Timothy 3:1-13
Here Paul talks about the qualities required in church leaders.
?Make a list of the qualities that Paul mentions here. Are these qualities that all Christians should share?
?Can these qualities be shown by women who have leadership potential?
?What reward awaits those who serve others well?
?How are people selected for responsibilities within our church? What skills and background are needed?
?Do people with responsibilities for leading others need to be well educated and literate?
Nepali Version Below:
ख्रीष्टियन अगुवा
१पत्रुस ५:१-४ पढ्नुहोस्।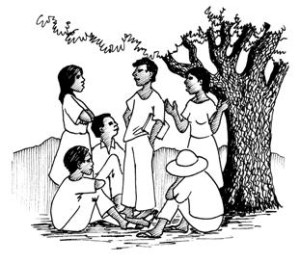 (?) यो खण्डमा उल्लेख भएको अगुवाका विशेषताहरूको सूची तयार पार्नुहोस्।
१तिमोथी ३:१-१३ पढ्नुहोस्।
यहाँ पावलले मण्डलीका अगुवाहरूमा हुनुपर्ने गुणहरूको बारेमा कुरा गर्नुहुन्छ।
(?) यहाँ पावलले उल्लेख गर्नुभएका गुणहरूको सूची तयार पार्नुहोस्। के यी गुणहरू सबै ख्रीष्टियनहरूमा हुनुपर्छ?
(?) के अगुवापनको क्षमता भएका महिलाहरूले पनि यी गुणहरू देखाउन सक्छन् ?
(?) अरूको सेवा राम्रोसँग गर्नेलाई कस्तो इनाम छ ?
(?) हाम्रो मण्डलीमा कुनै जिम्मेवारी पूरा गर्न मानिसहरूलाई कसरी छानिन्छ ? कस्ता सीपहरू र पृष्ठभूमिको खाँचो पर्छ ?
(?) अरूलाई अगुवाई गर्ने जिम्मेवारी पाएको व्यक्ति शिक्षित र साक्षर हुन आवश्यक छ ?
'This is a translation of a Tearfund publication, 'Guide Our Steps.'
Nepali Translation and Posted by Rita Subedi, Translator, ITEEN
Republished on nepalchurch.com new site May 7,2013
Category: Guide Our Steps