Working together
Written by Rose Robinson
Read Exodus 17:11-13
These verses give examples of what can be achieved if we work together as a team.
?What would have happened in this situation without cooperation?
?Can we think of any similar situations in the present day?
Read Judges 20:11 (If you have time, read the whole of Chapter 20.)
?What happens when people unite behind a common purpose?
?How can our group help to unite people in times of peace?
Read Matthew 18:19-20
?Why are the prayers of several people more pleasing to God than one person praying alone?
?How often do we discuss situations and pray about them in small groups?
?How could we do this more effectively?
Nepali Version Below:
सँगै मिलेर काम गर्ने
प्रस्थान १७:११-१३ पढ्नुहोस्।
हामीले एउटै समूहमा मिलेर काम गर्‍यौं भने के प्राप्त गर्न सक्छौं भन्ने कुराको उदाहरण यी पदहरूले दिन्छ।
(?) यो परिस्थितिमा सहकार्य नभएको भए के हुनेथियो?
(?) वर्तमान समयमा यस्तै अवस्थाको बारेमा हामीले विचार गर्न सक्छौं?
न्यायकर्ता २०:११ पढ्नुहोस् (यदि समय छ भने २० अध्याय पूरै पढ्नुहोस्)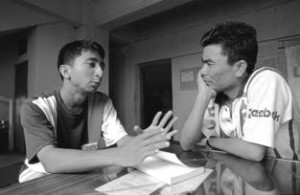 (?) एउटै उद्देश्यको लागि मानिसहरू एकजुट भयो भने के हुन्छ ?
(?) शान्तको समयमा हाम्रो समूहले मानिसहरूलाई कसरी एक बनाउन सक्छ?
मत्ती १८:१९-२० पढ्नुहोस्

(?) एउटा मानिसले एक्लै प्रार्थना गरेको भन्दा धेरै मानिसहरूको प्रार्थना किन परमेश्वरलाई मनपर्दो हुन्छ?
(?) हामीले कुनै समस्याको बारेमा छलफल गरेर समूहमा कतिको प्रार्थना गर्ने गर्छौं ?
(?) यो हामीले अझ प्रभावकरी तरिकाले कसरी गर्न सक्छौं ?
'This is a translation of a Tearfund publication, 'Guide Our Steps.'
Nepali Translation and Posted by Rita Subedi, Translator, ITEEN
Republished on nepalchurch.com new site May 7,2013
Category: Guide Our Steps