Valuing each other's gifts
Written by Rose Robinson
Read 1 Corinthians 3:1-15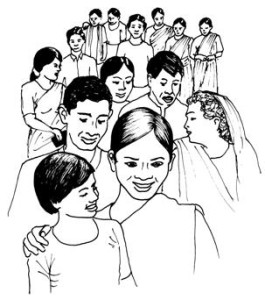 ?What problem is there in this church?
?What does Paul suggest is the proper attitude to different workers?
Only God can make things grow and can make our work prosper (Psalm 127:1).
He wants us to be his 'fellowworkers', each achieving the part of the work he has assigned to us and using the gifts and qualities he has given us.
Jealousy and quarrelling cause division. If a project is to succeed, we need to value every person's gifts – our own nd those of other people – and work together
?What is the foundation that Paul says he has laid in verses 10 and 11?
There is no other foundation that will endure forever. We must also be careful how we build.
?What will eventually happen to all our work? (verses 12-15)
?How will what you are 'building' look in the 'light of day'?
?What could Paul have meant by the fire in verse 13? Will our work survive this?
Nepali Version below:
एक अर्काको वरदानलाई मूल्यवान ठान्ने ।
१कोरिन्थी ३:१-१५

(?) विभिन्न कामदारहरू प्रतिको उचित धारणा के हो भनी पावलले भन्छन् ?
परमेश्वरले मात्र हाम्रो कामको वृद्धि गर्न सक्नुहुन्छ (भजन १२७:१)।हामी उहाँको सहकर्मी भएको उहाँले चाहनुहुन्छ र उहाँले हामी हरेकलाई दिनुभएको जिम्मा पूरा गरेको र उहाँले हामीलाई दिनुभएको दान-वरदान र क्षमताहरूको प्रयोग गरेको चाहनुहुन्छ।डाह र झगडाले विभाजन ल्याउँछ।यदि कुनै काम पूरा गर्नु छ भने, हामीले हरेक व्यक्तिको वरदानलाई महत्त्व दिनुपर्छ – हाम्रो आफ्नै वरदान र अरूको वरदानलाई पनि – र सँगै मिलेर काम गर्नुपर्छ।
(?) पद १० र ११ मा पावलले के जग बसालेको छु भनी भन्छन् ?
अरू कुनै पनि जग सदाको लागि रहिरहँदैन।हामीले कसरी निर्माण गर्छौं त्यस विषयमा पनि होशियार हुनुपर्छ।
(?) अन्तमा हाम्रा सबै कामहरूको प्रतिफल के हुन्छ ? (पद १२-१५)
(?) 'दिनको ज्योति ' मा तपाईंले ' निर्माण' गर्नुभएको कुरा कस्तो देखिन्छ ?
(?) पद १३ मा पावलले बताएका आगोले के अर्थ दिन्छ ? के हाम्रो काम यसमा खडा रहन सक्छ ?
'This is a translation of a Tearfund publication, 'Guide Our Steps.'
Nepali Translation and Posted by Rita Subedi, Translator, ITEEN
Republished on nepalchurch.com new site May 7,2013
Category: Guide Our Steps