One body with many parts
Written by Rose Robinson
Read 1 Corinthians 12:12-26 and Romans 12:3-8
There is much we can learn from these passages about how group works together. In any group there are a variety of people, but they form one body and, as such, have a commitment to, or belong to, one another.
?What does this mean in practice for your group?
Each member of the group has a gift to use. In this passage, several dangers are highlighted when thinking about our own gifts and those of others.
?What warnings do we read about in Romans 12:3 and I Corinthians 12:21-25?
?What happens when we overvalue or boast about our own gifts and undervalue those of others?
Nepali Version Below:
विभिन्न अङ्गहरू भएको एउटै शरीर
१कोरिन्थी १२:१२-२६ र रोमी १२:३-८ पढ्नुहोस्।
एउटा समूहले सँगै मिलेर काम गर्छ भन्ने विषयमा यी खण्डहरूबाट हामीले धेरै कुरा सिक्न सक्छौं।कुनै पनि समूहमा विभिन्न प्रकारका मानिसहरू हुन्छन्, तर उनीहरू एउटै शरीर जस्तै हुन्छन् अर्थात् एक अर्कामा समर्पित हुन्छन्।
(?) तपाईंको समूहको व्यवहारिकतामा यसको अर्थ के हुन्छ ?
समूहको हरेक सदस्यसँग प्रयोग गर्नको लागि वरदान हुन्छ।हामीले आफ्नो र अरूको वरदानको बारेमा विचार गर्दा आउनसक्ने केही खतराहरूको बारेमा यो खण्डले प्रकाशित पार्छ।
(?) रोमी १२:३ र १कोरिन्थी १२:२१-२५ मा हामीले के कस्ता चेतावनीहरूको बारेमा पढ्छौं?
(?) हामीले आफ्नो वरदानलाई बढाइ चढाइ गर्दा र अरूको वरदानलाई हेला गर्दा के हुन्छ?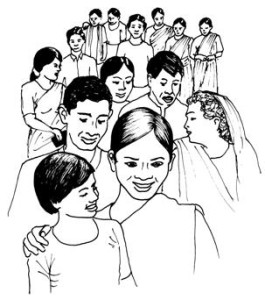 'This is a translation of a Tearfund publication, 'Guide Our Steps.'
Nepali Translation and Posted by Rita Subedi, Translator, ITEEN
Republishedn on nepalchurch.com new site May 7,2013
Category: Guide Our Steps