THOMAS BOGATY
Kathmandu
Nov 8, 2019
The Interfaith leaders from all over Nepal gathered to highlight the interfaith dialogue for the peace building in the nation in collaboration with media and other stake holders.
At the dialogue program held by Interfaith Peace Federation of Nepal in support with United Mission to Nepal at Aryal International Hotel Pvt. Ltd on the title, "Interfaith Dialogue and Media Engagement for Peace Building. Ram Bhakta Kurumbang, Chairman of IPFN emphasized on the importance of maintaining religious tolerance, co-existence and collaboration up to the standard expected by the world community.
He provided a brief history interfaith involvement in Nepal and said it was initiated since 2064 BS when all the religious leaders from Buddhism, Christianity, Hinduism, Kirat, Islam, Bahai, Jain, Sikh and other faith came together to address against the Moist insurgence for peace by forming an interfaith community.
Stressing on the objectives of IPFN he said, "The main values of interfaith is to promote peace and good will, co-existence, unity during the common issues, mutual respect and co-ordination and creating the society without any discrimination."
Interfaith and Media Researcher, Narendra Pande facilitating the overall principle of interfaith dialogue presented the brief paper presentation about the interfaith, interfaith dialogue and media engagements. The paper presentation involved the topics of interfaith dialogue, media partnership and interaction with interfaith, peace building through interfaith dialogue and media engagements.
He quoted , "Interfaith dialogue is a process where religious understanding of various religious denominations is exchanged and understood incorporating, accepting and listening the teachings of other religions and putting opinions of one particular."
Further he added that activities carried out like uplifting the woman of Madhesi communities, self-acceptance realization and building of relationship, can change the attitude and behaviors, leading to peace building He cautioned that the media should not manipulate the truth, misrepresent others and carry irresponsible journalist, but should coverts conflict to cooperation, controversy to constructive dialogue and crisis to celebration.
Prabhat Chalaune Former Secretary of Nepali Journalists Federation and current chief editor in Nonstopkhabar.com expressed that religions actually is a lifestyle and the solving issues through dialogue is a positive step of IPFN.
During the interaction, several journalist suggestions was received for IPFN and most of the media persons were in favor that such interaction program should continue as it can bring forth the fruits of peace building .
Silpa Guruma from Jain expressed that media can play a very important role to promote peace and harmony as it has the enourmos capacity to outreach .
Seema Khan, Chairperson of Interfaith Alliance for Peace emphasized that interfaith dialogue should focus on equity and equality and not giving especial priority to a particular religions.
Alltogether there was a particiaption of 25 journalist representing various media outlets .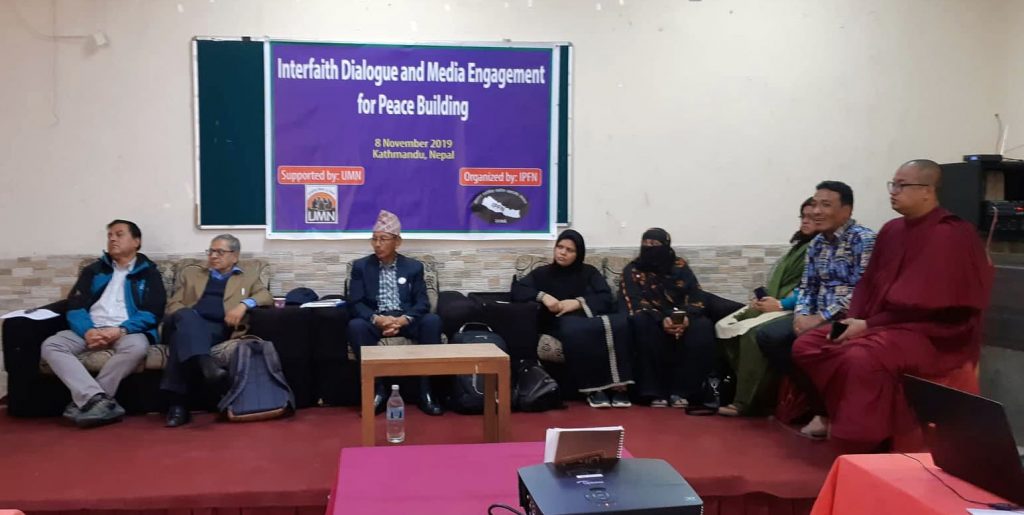 Category: NC Photos, News & Events