Leadership
Written by Rose Robinson
 Support for leaders
Discuss what help leaders may need to fulfil their role effectively? The following may give you some ideas:
?God's help (Exodus 3:11-12; Judges 6:15-16)
?Help from others (Exodus 4:10-16; Exodus 17:12; Acts 6:1-7)
?Prayer (Acts 6:6; 13:3; 1 Thessalonians 5:25)
?Resources and workers (Exodus 36:2-3; Nehemiah 4:6)
?Training alongside those with more experience, following the example of Joshua (Exodus 24:13; 33:11); Elisha (1 Kings 19:19-21); Timothy (Philippians 2:22).
?Discuss how we can support, encourage and pray for our leaders more effectively.
Nepali Version below:
अगुवापन
अगुवाहरूको लागि सहायता
अगुवाहरूलाई आफ्नो भूमिका प्रभावकारी ढङ्गले पूरा गर्न के कस्ता सहायताको खाँचो पर्ला, छलफल गर्नुहोस्?
तलका कुराहरूले तपाईंलाई केही विचारहरू दिन साक्छन् :
(?) परमेश्वरको सहायता (प्रस्थान ३:११-१२; न्यायकर्ता ६:१५-१६)
(?) अरूहरूबाट सहायता (प्रस्थान ४ :१०-१६; १७:१२; प्रेरित ६:१-७)
(?) प्रार्थना (प्रेरित ६:६, १३:३; १थिस्सलोनिकी ५:२५)
(?) साधन श्रोत र काम गर्नेहरू (प्रस्थान ३६:२-६; नहेम्याह ४:६)
(?) बढी अनुभव पाएकाहरू सँगै तालिम लिएर, यहोशूको उदाहरण पछ्याएर (प्रस्थान २४: १३, ३३:११), एलिशाको उदाहरण (१राजा १९:१९-२० तिमोथीको उदाहरण फिलिप्पी २: २२) ।
(?) हामीले हाम्रो अगुवालाई अझ प्रभावकरी ढङ्गबाट कसरी सहायता पुर्याोउन सक्छौं उत्साह दिन सक्छौं र उहाँहरूको लागि प्रार्थना गर्न सक्छौं छलफल गर्नुहोस्।
'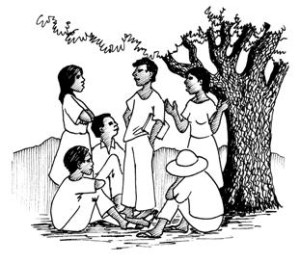 This is a translation of a Tearfund publication, 'Guide Our Steps.'
Nepali Translation and Posted by Rita Subedi, Translator, ITEEN
Republished on nepalchurch.com new site May 7,2013
Category: Guide Our Steps