Kathmandu. November 19.                                                   
Media Advocacy Forum Nepal (MAF-Nepal) which is guided by  its principle "Advocacy for Human Rights, Social Justice and Good Governance", held a National Consultation on 'Drivers of Persecution and Dimensions of Advocacy in the Present Context of Nepal' on November 15 in Kathmandu.
Attended by 130 people including National Human Rights Commissioner Ms Mohana Ansari as the Distinguished Guest, and accompanied by dozens of rights activists, media persons, civic society leaders as well as faith leaders and legal experts, and leaders of various organizations and networks, the consultation proved to be a forum for a diverse views to be expressed and and commented upon.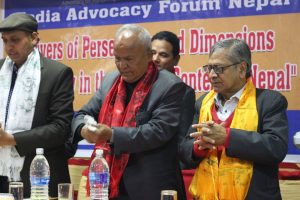 Advocate Bhabindra Rai  presented a working paper on the same theme, and raised the issue of how minorities of all kinds have been victims of systematic discrimination and persecution, from religious extremism to organized corruption to a biased legal system.
Then various representatives from Christian and Hindu communities, as well as ministry and social service organizations commented upon the same paper. Human Rights Commissioner Ms. Mohana Ansari advised the community to be well informed about legal and constitutional provisions and facilities, utilize them, to report all incidents of human rights violations with supportive proof or quotation of constitutional and international treaties or provisions. She also advised the minority religious leaders to form a forum for common grievances so as to make their voice louder and influential.
Investigative and advocacy journalist Mr Chitra Mizar was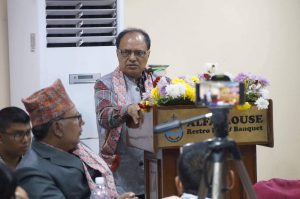 awarded the first Media Advocacy Award 2019, while healing minister Chet Kharel was conferred a felicitation letter in the same program.
Dr Mahendra Bhattarai addressed the Consultation representing the minority community, and accentuated the need for mutual acceptance and co-existence. He challenged the assembly to imitate the best practices from across the world while rejecting the negative examples.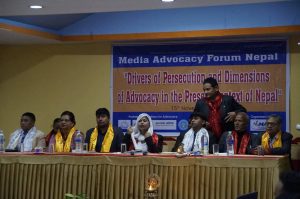 Rights activist and author BP Khanal commented on the plight of freedom of religion or belief in the light of the rising regressive voices, and emphasized going back to monarchy and one religion system can never be the solution. He demanded Nepal as a party to the international treaties and conventions and covenant be honest and implement the same.
Speaking on behalf of the people with disability (PWD), Mr Kosh Bilash Adhikari shared his own moving life story, struggles, how he was frowned upon as a sinner, and how he was forced to move away from his village. Systematic negligence towards PWD is still prevalent, though some awareness is coming, but much more is still to be done, he reminded.  He said, support and acceptance towards PWD at the constitutional, legal, structural and societal level is needed.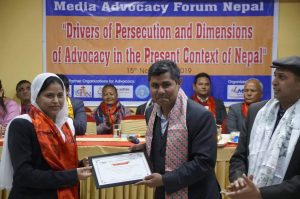 The consultation ended up making a declaration and commitment: MAF-Nepal Declaration 2019 and and Kathmandu Commitment. Some points from the Commitment:
To protect and promote freedom of religion or belief as a non-negotiable and inalienable right; To work towards making freedom or religion or belief a reality for all irrespective of their ethnicity, gender, sexuality, nationality or disability; To continue working for advocacy with media.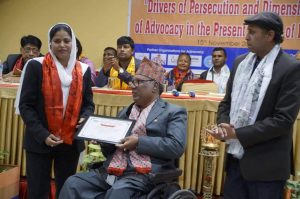 The consultation was supported by CCBNN, IPPFoRB, Sundar Dhoka Sathi Sewa and Transformation Nepal, among others.
Category: Conference/Seminars, News & Events, Religious Freedom, socio-political