Thomas Bogaty
Keeping in mind the significance of the role of media on advocating for peace and development through interfaith dialogue Nepali journalists gathered for interaction on 'Role of Media to Promote Inter-Faith Dialogue for Peace and Development' organized by Inter-Faith Peace Federation Nepal in coordination with United Mission to Nepal today in Kathmandu.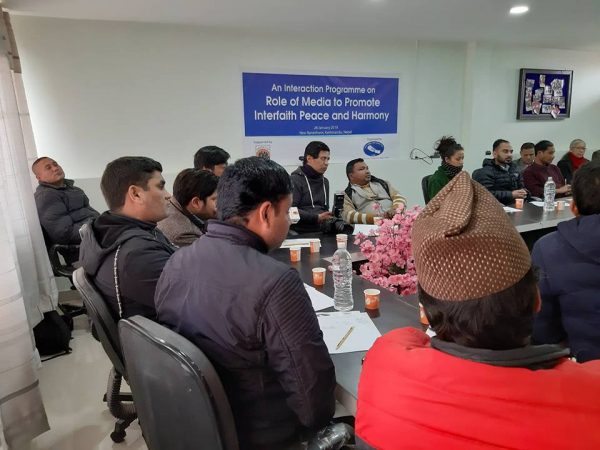 Prabhat Chalaune Former Secretary of Nepali Journalists Federation and current chief editor in Nonstopkhabar.com stressed on the role of media to promote peace, harmony and develop in all areas though peace has not been the selling point.
He said, "when the issues of religion and faith comes into picture media has tried it's best to respond." But he opined that media most of the times heeds to the majority population while faith, religion, opinion and governance is attached.
Seema Khan, Chairperson of Interfaith Alliance for Peace responded to journalists saying that media has not been able to delve into voice of the voiceless when it comes to interfaith peace, harmony and development. The political issues have been on the coverage ignoring the religious aspects and influence of the religious leaders especially interfaith experts that drives the mindset of society.
'Even tolerant religious leaders have played major role in decreasing the social malpractices along with human right activist, campaigners, politicians, social workers and celebrity," she said adding that media should do in-depth reporting on how the religious leaders are making positive impact in the society not just the negative aspects to ascend the selling point of their news.
Likewise Ram Chandra Bhandari, Vice-Chairperson of Vedic Sanatan Karmakanda Federation Nepal highlighted on the religious tolerance among all 12 religions practiced in Nepal without any interference of the vested interest of the individual religion. "The Hinduism never instructs to disregard the personal faith and opinions of people. If people want to change their religions then it's their personal choice but not the matter of vested interest of government and particular religion majorly practiced in the Icountry," he said.
Interfaith and media researcher Narendra Pandey advised that media should guide the society to conduct dialogue on interfaith to promote peace and brotherhood to come with the conclusions similarities and dissimilarities among various faith for better understanding of each other to deepen the relationships instead of the particular belief system. He acknowledged of religious leaders and inter-faith practitioners needing helping hand of media to reduce the gaps of enmity among the extremists.
BP Khanal, National Coordinator of International Panel of Parliamentarians for Freedom of Religion or Belief complained that despite the mushrooming media, the inter-faith dialogue has not been sensitized. "The inter-faith terminology is totally different from religion because inter-faith is a platform where religious leaders from all religions gather to promote peace and development. When we talk about inter-faith we are not talking about religion but of peace and harmony," he said adding that even his book Freedom of Religion or Belief did not earn public interest because they mistook it for religious book instead of it's inter-faith sentiments. He also highlighted that interfaith dialogue is taking place beyond the borders in other countries but it's still in primitive stage in Nepal due to lack of media's understating of inter-faith sector.
IPFN has been operation in Nepal since 2075 in coordination with UMN brining leaders of seven religions along with advocates, human rights activists, researchers and inter-faith enthusiasts to promote inter-faith dialogue that is estimated to be practiced 125 years earlier when Swami Vivekananda had introduced the concept to westerners in order to bring about true harmony, peace and balanced development.
Category: News & Events