Written by Janak B.C.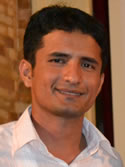 Things are not well with me nowadays. My heart really whimpers when I lie down on the bed in the evening, and try to read of the circumstances that I have come across in day-to-day life. I vividly remember the legacy of the heroes of Faith who had dreamed of God's kingdom in Nepal. Things were different even as little as two decades ago. There was passion and agape love among the Christian communities.
Now we are living in the hypermodern age where logic has dominated human brains.  "Whatever rings true to your experience, whatever feels real to you, whatever works for you…"  Richard, 1999). It seems like faith has no more place into our beings. Even if it has, it seems like it is dwindling. I try to fight with such ideas and feelings. No! It cannot be so. Faith will NEVER cease. Even if evil conquers, it does not last for long. (Galatians 5:19-21) At the same time, please be assured that I do not intend to generalize the case. There are the Pauls and Timothys, Priscillas and Aquilas existing in the church of God. They will stand tall no matter how heavy the storm could be.
Why Lord? Why do people who have tasted your love, walked with you, and known you for years and years, tumbled into the ploys eroding Christian integrity and witness? I think that such trends have brought incalculable damage to our twenty-somethings. The young generations have plenty of questions which are real, such as corruption, poverty, diversity, justice and so on. If they do not get authentic answers from us, think about the outcome!
According to research by the Barna group, 60% of Christian youth will drop out of church for a significant period during their twenties and one third of Christian youth will lose their faith or significantly doubt it at some point during that period. (David Kinnaman, with Aly Hawkinds, 2011)
The history is fresh even today.  On one hand, there is much joy and celebration among the Christian communities where Christianity is increasing in numbers; churches are being established in different places in Nepal.  On the other hand, there is much corruption, dishonesty, fraud and disputes happening in the churches. Well, I am aware of when someone writes the unvarnished truth, the person would receive much criticism and sometimes would get threatened besides.
A few days ago, I was just going for a morning walk. Since it was cold, I entered a restaurant to have a cup of tea. The radio was on and FM news was being broadcast and the people were hanging onto a newspaper. The restaurant owner was commenting on the news that was openly aired by radio and newspaper. I, however, do not want to disclose the news but that was something very shameful to the Church of Jesus Christ. There were days in Nepal when we used to share testimonies of the people to reflect the Love of Christ.
Looking at the political scenario, we have already been dashed by the ebbs and flows of the political chaos of the country and here we need to unite in prayer and actions together for the betterment of the development. The country is close to National Election which has not been fixed until now. Political parties are still seeking to have consensus among themselves. Bandhs and strikes are as usual in Nepal as business and markets have not flourished due to the political chaos. The education system has been biased to the rural sectors. Students who are enrolled in grade 6 cannot even do 'simple addition' in the Karnali region. People have to pay 100 Rs to buy 1 kg of salt. People are living in utter poverty in the western mountains. Women suffer from health issues and die due to not getting proper medication. Into this context, our Christianity is surviving. Who is responsible? Everybody has the easy answer: Government! What if we answer: "ourselves". The problem that I see here is very much associated with the impact of postmodernism on our teens and twenty-somethings. Believe it or not, but the fact of the matter is that our generation has been very much influenced by the trend of postmodernism to some extent. They seem to be insensitive towards others.  I, me and myself are the center of existence. My identity matters. From sacred to secular, this trend is a part and parcel of human life.  Sociologists divide the ages in different ways such as traditional age, modern age and post-modern age. I however add the fourth one that is biblical age. History changes as times and eras change.  However, the biblical truth stands for ever. The biblical truth does not compromise with the doctrines. The context may differ, methodology may vary, cultures may clash but he message would not alter. God's intention would never change. Christian doctrines may vary but not the message of salvation. Doctrines and denominations will not give life but the love of Christ brings life and joy which is unsurpassable.
Therefore, what we should do then? We would get tired looking at the tides of the so called Christian leaders but would be empowered if we look unto the Lord Jesus.  Learn from the Lord Jesus not from the leaders of this age. This world would bring discouragement as we often see our role models who could not complete the race well. Therefore, our faith should not cling to the people of this generation. Our faith should embrace Jesus who is the author and finisher of our faith.
Republished in new layout 20-May-2013
Category: Articles