India
Republic of India
Asia
Geography
Area: 3,166,000 sq km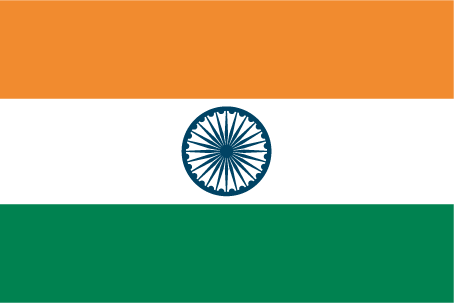 A further 121,000 sq km of Kashmir, a contested area, is administered by Pakistan and China. Geographically and politically, India dominates South Asia and the Indian Ocean. There are 28 Union States and 7 Union Territories.
Population: 1,214,464,312 Annual Growth: 1.44%
Capital: Delhi
Urbanites: 30.1%
HDI Rank: 134 of 182 (UN Human Development Reports 2009)
Peoples
Peoples: 2,533 (88% unreached)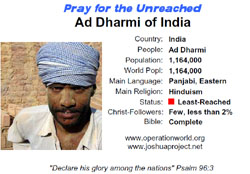 Official language: Constitutionally there are 22 official languages. The official language is Hindi (spoken by 40% of the population). English is a subsidiary official language Languages: 456 .
Religion
Largest Religion: Hinduism
| Religion |   | Pop % | Ann Gr |
| --- | --- | --- | --- |
| Christians | 71,011,000 | 5.84 | 3.7 |
| Evangelicals | 26,290,283 | 2.2 | 3.9 |
| Hinduism | 902,711,323 | 74.33 |   |
"Taken from the Operation World website (www.OperationWorld.org), 13 July 2013, Copyright © 2010 by Jason Mandryk." 
Category: World