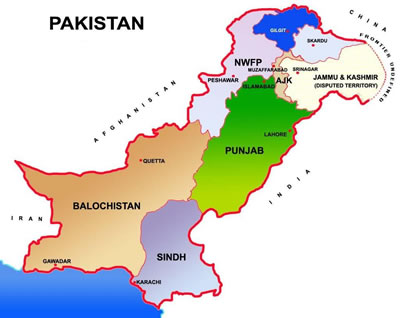 A Pakistan court has acquitted a pastor accused of insulting Islam because the pastor's accuser has told the court he was mistaken.
Karma Patras, 56, already had been released on bail from Sheikhupura District Jail in February after the man who filed the complaint, Syed Zulqarnain Shah, told court his accusation had been lodged mistakenly. The formal withdrawal of charges June 14 makes Patras at least the fourth Christian this year to be released after being charged with blasphemy, which is illegal in Pakistan. Local sources told
World Watch Monitor they know of no other case in which the complainant had retracted an accusation of blasphemy.
The removal of charges against Patras, who spent about four months in jail before his February release, comes as Aasiya Noreen, widely known as Aasiya Bibi, marks her fourth year since she was accused of blasphemy. The only woman in Pakistan convicted of the charge, Noreen was sentenced to death in November 2010. She remains in Pakistan's Sheikhupura prison, 75 kilometres from Lahore, awaiting her appeal to a higher court.
The Noreen case drew sharp international criticism, and intensified the debate in Pakistan over its blasphemy laws. The governor of Punjab province was murdered by a member of his security detail after he publicly defended Noreen and criticized the laws.
By contrast, the Patras case was low profile. The court's dismissal of charges drew little attention beyond the Christian media.
The pastor's troubles began Oct. 13, when he was invited to address a funeral gathering by a bereaved family in a neighbouring village in the Nankana Sahib District of Punjab province. In his sermon, Patras described the death of Jesus as the ultimate sacrifice, superseding the need for any further animal sacrifices required by any other traditions.
The sermon was delivered only days before the Islamic festival of Eid-ul-Adha, on which Muslims offer a cow or bull, a ram, or a camel for the forgiveness of their sins. Several Muslims were in attendance at the funeral, and no one raised any objections at the time, Patras told World Watch Monitor.
A few hours later, the pastor received a phone call that the Muslims of village wanted to meet him to discuss the sermon he had given in their village.
"I had come back home when someone informed me on the phone that the Muslims were angry over the sermon," Patras said. "I asked a few Christians to accompany me and we were just about to leave when the police arrived and arrested me."
Patras was charged under a section of Pakistan's blasphemy laws that carry a maximum penalty of 10 years in prison, according to the European Centre for Law and Justice, a France-based attorney group that uses litigation to press for religious freedom.
Syed Zulqarnain Shah did not attend the sermon, but in the complaint he filed with police he said that when he approached the religious gathering at the house of the bereaved family, he heard Patras say that the meat eaten by the Muslims on Eid-ul-Adha was like that of a dog. Patras denied the allegation completely.
The pastor said he drew his remarks from a passage in the Book of Isaiah: "But whoever sacrifices a bull is like one who kills a person, and whoever offers a lamb is like one who breaks a dog's neck; whoever makes a grain offering is like one who presents pig's blood, and whoever burns memorial incense is like one who worships an idol."
"I did not have the Islamic feast in mind when I was referring to Isaiah 66 and saying that no animal sacrifice was needed anymore," Patras told World Watch Monitor.
After Patras had been arrested, a large number of Muslims gathered outside the police station, demanding that Patras be handed over to them. But the pastor already had been transferred to another location.
The protesters turned their attention to Patras' five sons, telling them to leave the village along with their families or else they would be captured and set on fire. That evening the five sons and their families loaded their belongings and left the village.
Patras' sons and other Christians later contacted Shah and explained to him that nothing offensive was said about the Islamic ritual of sacrifice. Shah told the Sangla Hill Judicial Magisterial Court on Feb. 22 that he had mistakenly accused Patras of committing blasphemy.
On June 10 a Pakistani lawyer for the European Centre for Law and Justice asked the court to drop the charges against Patras. On June 14 the judge called Shah into the court, where he "testified that he had mistakenly accused Pastor Karma Patras of speaking against Islam," the centre said.
Pakistan's anti-blasphemy laws date to the British colonial era, and were mostly dormant until the 1980s rule of Gen. Zia-ul-Haq. Critics of the laws say they have been used to settle scores, seize property and instigate communal violence against Christians. The laws are widely popular among voters, and public pressure to enforce them can be intense.
In January, however, the Pakistan Supreme Court agreed with a lower court that Rimsha Masih, a teen-aged girl accused in 2012 of burning Islamic texts, had been framed by a local imam. Shortly afterward, a Punjab state trial court tossed out a blasphemy case against a high school custodian, ruling that the charge was a pretext to an attempt to take his family's land. In April, an appeals court released a Christian man after his lawyers argued the blasphemy charge against him was based on hearsay. Pakistan is No. 14 on the 2013 World Watch List, an annual ranking of the 50 countries where life as a Christian is most difficult. It is published by Open Doors International, a ministry to Christians living under pressure for their faith. Pakistan's "Christians are caught between Islamic militant organizations, an Islamizing culture and a weak government with a military complicit in fuelling Islamic militants," according to the list.
*****************
Source: World Watch Monitor