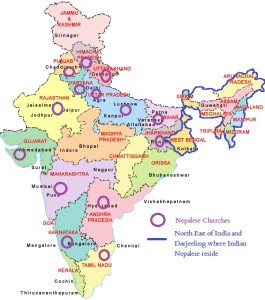 I am tremendously delighted and grateful to God for his bountiful blessing that he has been rendering for the Nepali migrants. Thirteen years have passed by that I have been staying in India, encountering the ample up and downs of migrants' realities. Most of these realities do not come into the limelight and they may not appear in the light of the Nepal government. In addition, these groups of people are not even reckoned in the migrant's category as other Nepalese who go to other countries than India. Nevertheless, India is the leading country where thousands of Nepali migrants have been congregating on a daily basis, as the 1950's peace treaty has provided an open access to the Nepali migrants.
Looking at the history in a nutshell, Nepalese were inclined to enter into the Northern part of India in the early days to work on tea plantations and herd cattle. After the Anglo-Nepal war of 1815-16, the British army was impressed by the fighting capacity of the Gorkha's and started to recruit them. This is evidence that most of the Nepalese went to Northeast India were either being recruited into armies or to find survival especially through farming and herding animals. However the major hurdle takes place after the peace treaty between India and Nepal, Most started to go to major cities such as Mumbai (Bombay until 1996) and Kolkata (Calcutta until 2001) mainly working as security guards as they were considered as bearers of bravery and physical strength and endurance.
Now the situation has changed a lot as we entered the 21st century. Migration has turned out to be a global phenomenon and for the ones moving away from home, it is no longer an adventure; rather it has to do with livelihood and survival. When we talk about the Nepali migration, at first our mind strikes at the Foreign Employment Promotion Board and we start to keep track of those who travel via Tribhuwan International Airport, having no clue regarding those who make Delhi as their traveling route and to the thousands of those who have gone to India through different border crossings of Nepal-India. Somehow I feel that the government of Nepal is much more concerned about those groups of people (passport carriers), whose remittances are on record, underestimating those who make India their destination due to poverty and survival. Hence, I keep on writing about the Nepalese migrants in India whose very issue of migration lies on the survival. Almost each and every national newspaper from Nepal produces the news about the Nepalese Migrants from South East and gulf countries. I have rarely seen that media ever talks about the issues of Nepali migration in India unless there is somewhere you may read that Nepali girls are being sold in Indian metro cities.
Let me turn to another aspect of what the Nepali churches are doing in urban India apart from the North East and Darjeeling where Indian origin Nepalese reside. There is no doubt that Nepali churches are rapidly increasing in Nepali Diaspora at Urban-India. Bangalore, Chennai and Delhi have been leading cities where most of the students come from Nepal to pursue their studies. This growth has increased in the last five years as most of the girls come for nursing studies in Bangalore and Chennai; whereas students study to become Chartered Accountants in Delhi as these courses are more cost-effective in India than Nepal.
The root of Nepali churches in urban-India certainly may go to India as most of the Christians from Darjeeling and nearby areas came to India to pioneer and start the fellowship groups which they certainly no doubt have done. However the amazing thing has to be noted here is that Nepali churches from Nepal are taking a bold step to stretch their hand in order to reach out to the Nepalese emigrants beyond the border and, this is definitely a positive move from the Church of Nepal. In fact the beginning of this movement has not been a decade long.
 Starting from the North West of India, where more than 12 churches and 40 daughter churches are ministering among Nepali migrants under Youth with a Mission. We assume that there would be around more than 5000 Nepali Christians only in Himachal Pradesh.  However it would be unfair if we make the head count of Christians as an indicator of the growth and impact of the diaspora churches. There are numbers of migrants who came and believed in faith and returned back to their home land and planted the churches there itself.[1] 
This is the positive factor of the Diaspora Mission. Isn't it wonderful that Nepalese are coming out from their limited zone and jumping in the mission field? Apart from the YWAM's work, other individual churches and organizations do have ministries among Nepalese migrants in different parts of Himachal Pradesh. In Jammu and Kashmir, we have not traced any Nepalese fellowships. In Uttarakhand, India-origin-Nepalese and migrants who come from Nepal are living there. However there are five churches working in Dehradun, and also in Kotdwar where the Gyaneshwar church of Nepal has sent a missionary to minister among Nepalese.  Coming further south, there is a great ministry among Nepalese in Chandigarh. The local pastor tells that there might be more than 14 fellowships among Nepalese with 700-800 Nepali Christians in Chandigarh alone.[2] Similarly there are Nepali fellowships in different parts of Hariyana such as Panipat, Sonipat where migrants mostly work in factories. Delhi is another landmark where Nepali churches are flourishing. There are around 30 churches/fellowships ministering among Nepalese people in Delhi and NCR.[3] UNCA [United Nepali Churches' Association] is an association of the Nepali speaking churches in Delhi and NCR regions. In 2002, a few Nepali pastors initiated coming together for prayer. Eventually, other Nepali speaking churches in Delhi and NCR started to add on slowly. Later, in 2005, the churches wanted to structure the association and Pastor M. L. Tamang was chosen to be the first president of the UNCA from 2005 to 2006. Now the UNCA has emerged as a platform for the Nepali speaking churches in Delhi where UNCA organises different programmes for the women, children and youth, including different trainings for the Nepali church leaders as well. The main objective of this association is to bring the Nepali churches under one umbrella where a sense of the unity would be practiced and this may enrich the ministry among Nepalese more effectively. Nevertheless the history says that a group of Christian people started to have get-togethers in Delhi, in about 1987.[4]
Nagendra Kumar, Pradeep Pradhan of Darjeeling… and Sasir Adhikari of Kalimpong…began to contact other Nepali-Lepcha Christians whom they knew in the city… Pradeep Pradhan, who migrated to Delhi from Darjeeling in 1987 specifically for full-time Nepali-focused Christian worked in conjunction with the Delhi Bible Institute (DBI).[5]
However, there were some other Nepali Christian people who worked in Indian cities in the early phase of time. Pastor M. L. Tamang, who was an employee in the Indian Navy, was transferred in Delhi in 1984 and started the first Nepali Congregation at Uttam Nagar in New Delhi.
We came to Delhi (on transfer) in May, 1984 and started worship/fellowship at our house only with our family and two other believers. By the end of 1984/beginning of 1985, a church was established at our house in Uttam Nagar.[6]
People like M.L. Tamang, Satish Chhetri and Umanand Gaire, who have given a significant contribution to the history of the Nepali church in New Delhi.
 In Uttar Pradesh, though it is very closely attached to Nepal, we have less record of Nepali ministry. There is a fellowship in Lucknow where Nepalese meet and also in Rampur and Bareilly, there are Nepali fellowships. Apart from these places, no fellowship has been recorded as such. In Rajasthan, there is a ministry among Nepali people. There are two Nepali fellowships in the city including an Assembly of God church that ministers among Nepali community.[7] In Bihar and Jharkhand, Nepali fellowships are in the capital regions in Patna and Ranchi but have not been contacted. In Gujarat, there is a fellowship in Ahmedabad where Nepali mostly work in cloth factories and others. In Chhattisgarh, Odisha and Madhya Pradesh, I have not visited any Nepali churches. I am sure that there might be some fellowships as MP is one of the growing states in economy which pulls a lot of migrant workers towards it. In Maharashtra, the first Nepali church was established in the late 1980s in Mumbai.[8] Now there might be 8 Nepali churches ministering in Mumbai.  The city has been attracting lots of labor migrants since the early days. Apart from this, there are three churches in Pune among Nepali migrants. Pastor Pardeep who is leading at Pune Nepali Fellowship and he is also a missionary from Gyaneshwar church.
 In Andhra Pradesh, the Nepali fellowship meets in Hyderabad where they run the Sunday service in the YMCA hall.  Pastor Hem has been instrumental in reaching the Nepali migrants in Hyderabad. In Karnataka, Bangalore has been doing wonderful works among Nepali people. Southern Asia Bible College has been helpful to reach out the Nepali community as Rev. Basant Prakash who is a faculty member at SABC and, also runs the Nepali churches in Banglore. All People Nepali Church has been growing under the leadership of pastor Timothy Thapa who is a missionary from the Gyandershwar church in Kathmandu.
In Chennai, although there was evidence of Nepali fellowships in 1980, it did not continue to a later period. However, in 2004, Ps. O.C Lepcha started to gather the Nepali speaking people in Anna Nagar. Later on Ps. Raju Tamang started another Nepali fellowship in Nungambakkam in 2010. Nevertheless most of the Nepali speaking students go to the local English speaking churches as they look to have an exposure. In Kerala, there was no evidence of Nepali fellowships until today.
 Summary
Dispersion of peoples and their movement is within God's plan, and it is also considered as "God's global plan for worldwide missions."[9] History gives us ample examples of how people moved from one place to another and God was engaged with people, regardless of the place and boundary. Jonathan Lewis talks about the two forces.[10] 1. Attractive Force (Come to the Blessing: Centripetal Force) 2. Expansive Force (Go to the Nations- Centrifugal Force). The Attractive force symbolizes the OT where Temple and Tabernacle were the places where people were attracted to meet with God. The Bible records where several other foreigners were also attracted to Israel because of the evidence of God's blessing. A second force in operation was an expansive force which means to send messages beyond the border of Israel.
The theory seems to be identical as the churches are looking for the migrants who are outside of the wall. The growth of Nepalese Christians in India has been tremendous and this is happening because of the contribution from India and Nepal both.  The church of Nepal is looking beyond the territory which is the need of today's mission.
Note: This is to make it clear that there might be more Nepalese fellowships and churches in India which I might be unaware. I therefore do not make any exclusive claims on the statistics that I have mentioned in the article. Your feedbacks/comments are appreciated.
---