As the masses adjusts to a world without Kobe Bryant, tonight saw the LA Lakers pay tribute to the legend at their pre-game ceremony.
The NBA icon lost his life in a fatal helicopter crash last Sunday in a tragic accident that claimed the life of his 13-year-old daughter Gigi and seven others.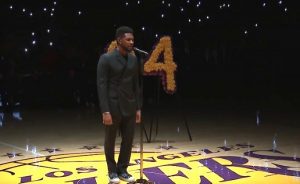 Usher was on-hand and delivered an emotional rendition of 'Amazing Grace' in honor of Bryant's life and impact.
impact.https://www.youtube.com/watch?v=1Dg8YvaJvwk