How to Apply for this Job
Background on Tearfund

Tearfund is an international relief and development agency working globally to end poverty and injustice, and to restore dignity and hope in some of the world's poorest communities.

We have a vision to see 50 million people released from material poverty. We operate in more than fifty countries around the world. We deliver our strategy by:

Developing communities and building resilience, sustainably and holistically
Changing unjust policies and practices to deliver justice for poor communities
Enabling communities affected by disaster and conflict to recover quickly and be better equipped to face future hazards.
We are committed to developing experts who are inspired, resourceful, courageous, compassionate and equipped. If you are interested in working with us, take time to look around our website and discover more about our unique organisation.
Tearfund's Application Process

If you would like to apply for this job, please send you cv to [email protected]. Please ensure that your cv clearly shows how your skills and experience meet the requirements for this post.

If after reading though this Job Profile, you have any questions or want to find out more please do not hesitate to contact [email protected]
Job Profile

| | |
| --- | --- |
| JOB TITLE | Senior Finance Officer |
| GROUP | International – Asia Cluster |
| TEAM | Nepal |
| LOCATION | Kathmandu (Frequent travel to Partner offices) |
| RESPONSIBLE TO | Country Representative |
PART 1 – JOB DESCRIPTION

JOB OVERVIEW
To carry out finance and accounting duties in support of the Tearfund Nepal Programme.

To support a system of financial record-keeping from which to provide Tearfund Nepal country office and Tearfund UK with timely, accurate and meaningful financial management information to enable them to monitor and manage the programme (Tearfund partners and Tearfund country office) effectively. In accordance with Tearfund policies and guidelines, to support a system of sound internal controls in order to safeguard Tearfund assets, mitigate against the risk of financial loss and fraud and satisfy donor and statutory audit requirements.

POSITION IN ORGANISATION
Grade 4
Reports to the Country Representative
ORGANIZATIONAL REQUIREMENTS
The post-holder will, at all times, carry out their responsibilities with the utmost respect for the protection of children in accordance with Tearfund's Safeguarding Policy.
The post-holder will be expected to behave in accordance with Tearfund's 'Code of Conduct' as referred to in the Personal Conduct Policy.
KEY RESPONSIBILITIES
Financial Management and Accounting
Ensure day to day finance function, including oversight of cash disbursements, cash receipts, banking, and petty cash management, collection and payment of relevant taxes to local authorities and other finance related tasks.
Ensure all transactions are recording onto PSF accounting system in a timely and accurate manner (ensuring correct codes, values and other transaction details).
Reconcile Bank balance, Safe & Petty Cash accounts for project site and follow up discrepancies in balances/data/reconciliations.
Ensure supporting documents for all transactions are organised and maintained in the filing system.
Preparation and submission of timely and accurate cash transfer requests.
Salary preparation in coordination with HR, payment, and compilation of salary records.
Ensure timely payment of bills for utilities (e.g. rent, water, electricity, telephone, refuse)
Liaise with Logistics, monitor project procurement function and ensure compliance with Tearfund policies and good practice
Support the Logistics to develop a suitable record of stocks including Gifts In Kind to ensure proper internal controls and procedures and minimization of risk of financial loss.
Adjust partners' reporting format in line with requirement of PSF and give orientation to the partners about the changes
Ensure month-end tasks including relevant balance sheet reconciliations
Preparation of the local statutory accounts and annual audit
Carryout project partners' financial monitoring visit and ensure the accuracy and correctness of the report sent by the partners on regular basis
Coordinate with program staff to ensure the match between program activities and their effect in financial records and report.
Any other administrative duty as maybe assigned by line management.
Budgeting, budget management and reporting

Track monthly financial reporting by donor (against the multi-donor analysed budget) and ensure no donor over/under expenditure
Review program report and financial report submitted by partners' to check the activities and expenditure are going as planned or not
Analyse and revise the country office budget and partners' budget
Donor reporting by collecting data from partners and country office and summarizing them as per donors' requirement
Obtain information about donor reporting period and deadline from Grant Information Officer and provide support to finance manager to meet the said requirement
Monthly implementation and expenditure planning.
Prepare and present monthly management report.
Training and capacity building
Provide training and support to all Tearfund staff on corporate processes and procedures. Ensure that all staff are provided with a finance briefing on induction.
Organize training or orientation program to update partners' finance staff about new changes in the policy, reporting format, donor and other national compliance and tax laws
Provide finance capacity building support to the Nepal Tearfund partners as required on finance and compliance processes and procedures.
PART 2 – PERSON SPECIFICATION

JOB TITLE: Senior Finance Officer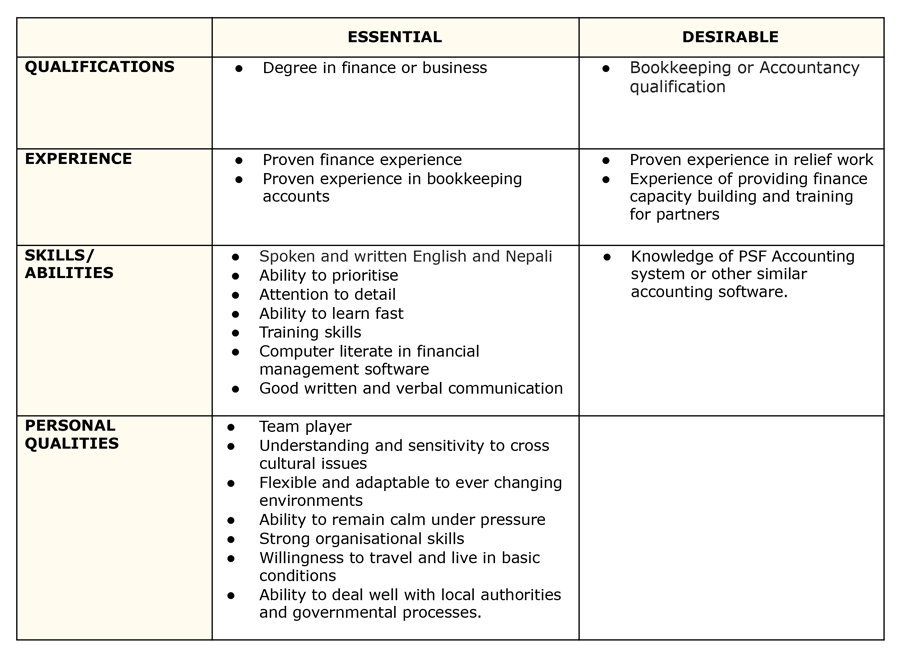 Category: Vacancy and Notice