Peter Kamaleshwar Sing
Peter Kamaleshwar, born and brought up in a village of southern plains called Terai came to Katmandu in 1963 for the first time to study Engineering at Nepal Engineering School, the only institution teaching Engineering in the country at the time. In 1965 after hearing the Gospel in Jawlakhel field Peter started studying from the book of Mathew in the New Testament. Brother K.V. Abraham of New Life League was helping Peter in the study and encouraging him in prayer. As the Bible study continued Peter had started confessing his sins and dirty thoughts. While praying one morning in his hostel room the Lord spoke from Rev. 3:20 and the Holy Spirit revealed that the door is meant for his heart. Making sure every sin was confessed and repented for, he prayed a prayer of faith, inviting the Lord Jesus to come in and dwell in his heart. A few minutes later, while coming from the dining hall Peter had a dramatic encounter with the Lord at the last step of the stair. It was as if the whole heaven had come down and filled him with unspeakable peace and joy. There was no trace of any scars of the sins committed in the past, the heart was washed clean by His blood. This experience brought such a change in his life that the whole school was disturbed some thought Peter might have gone insane.
After a year on 2023 Kartik 22, (Oct. 1966) 'Kamaleshwar' was baptized by Pastor Robert Karthak in Chapagaon river and brothers K.V. Abraham, C.T. John and others helped him by watching if any villager was coming that way. Baptism was very rare and an act against the rule of the nation. There was one year imprisonment for the person taking baptism, but 6 years for the person conducting the ceremony. However the Lord helped Peter and the group and the ceremony was completed uninterrupted. He took the name 'Peter' as the Holy Spirit had already shown him the previous evening, his nature being very similar to the apostle Peter.
Taking the 'great commission' personally Peter continued preaching and distributing tracts in Asan and Bhotahity area every evening after office until he was transferred to Pokhra in January 1967. He was born (spiritually) in Katmandu but Ramghat Church was the place where he was nurtured and brought up. After a very short stay of 2 years he was again transferred to Jumla, a far North West town where he stayed for more than 4 years, trying to witness by word of mouth and personal life style.
Peter's wife received the Lord as her personal Savior in 1970 and his parents in 1974. Leaving the Nepal Govt. job and working with SIL for 4 months, Peter went to Allahabad Bible Seminary in 1973. Because of his father's illness he had to discontinue his studies and come back home. His father and mother both came to the Lord and were baptized in the Duncan Hospital, Raxaul. His father expired after a few months because of cancer.
Because of their faith and denying performing any rituals as the villagers demanded, they were driven out of the village. After much prayer the Lord led them to Birganj, the only Christian family in the town. After getting a job in the local Sugar Factory they settled in Birganj, where they are still serving the church that came into being within a few years. Being in Pastoral ministry for more than 30 years, Peter has started writing in Nepali and English recently. He is an acknowledged and gifted teacher of the Word.
Some of the readers have said:
'Your writing "Church: The Body of Christ" provided a very good airplane reading. It is very well written and something that I'll keep in my files for future reference. Thank you for that.'
- Dale Thayer,
Rose Drive Friends Church,
California, USA.
'Recently I read your paper "Church: The Body of Christ", and that reminded me of 'Kingdom Health and Development Program Badki Fulwariya' without any special reason.
- Dr. Hiroshi Yazaki, Japan
Former Country Representative,
Narayni Eye Care Project, Gaur.
'Thanks for sending your excellent article on King David. A very timely subject for all of us in this 21st century obsessed with sex. We trust that the Holy Spirit who motivated you to write it will continue to Glorify Christ and have His Name exalted in all our lives. May His love be shed abroad through our witness.'
- Dr. Matt Peacock,
Dumbarton, Scotland,
Former GP, The Duncan Hospital, Raxaul.
'Yes, I did read your article, "The Other side of King David". It is well done and very relevant to our present generation'.
- Dr. Aletta G. Bell, Bangkok.
Director, SIM Mission,
Asia Pacific Region.
'Thanks for your article, "The Vine and the Branches". Again congratulations! both on the content and on your grasp of English'.
- Robert Beecham, Expatriate,
London, UK.
'A good plan Peter, the material is very good'(for publishing).
- Peter Light, Senior Pastor,
New Life Church, Romsey.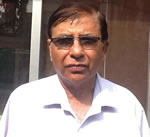 Introduction: Please find some thoughts expressed during 2015 which demonstrate the anguish and pain felt by the common man due to the present crisis. It may not represent the mind of every Nepali but I am sure most of the Christian community in the country and abroad will identify with most of the sorrow […]